Long range thermal cameras
SPI Long Range Thermal Imaging Products: Technologies and Features
Thank you for visiting our website.
SPI specializes in advanced military grade Long Range thermal cameras, long range thermal imagers and an impressive assortment of rugged, all weather PTZ HD day+night security and surveillance EOIR imaging systems.
SPI's rich vault of battle tested , Military-grade thermal products include:
SD and HD Thermal imaging goggles, monoculars & Riflescopes
HD High definition Long range thermal cameras
HD Multi-range thermal monoculars
Long Range multi-sensor MWIR cooled and LWIR uncooled PTZ thermal IR imaging flir systems
long range gyro stabilized UAS, UAV, UGV EO/IR thermal imaging flir gimbals
Long-range thermal imaging flir Binoculars
Easy quick mount thermal clip-on scope systems
We offer the highest grade thermal solutions for personal, law enforcement, military and anti terrorism/homeland defense use,
and are a hog hunter's best friend when it comes to hunting feral hogs in the dark or tracking down terrorists in the middle of the desert.We also offer Long Range thermal imaging Pan Tilt Zoom camera gimbals that showcase exceptional performance for coastal, border, shoreline, frontier security/surveillance applications.We can customize our PTZ systems, thermal scopes, and/or infrared cameras to your mission specifications or security demands, and we have our engineers available to assist you at every step of the way. We service what we sell, and offer repair services for all major thermal scopes & infrared camera systems. We also have offer used infrared systems. Please contact us for details and we'll be happy to get back to you.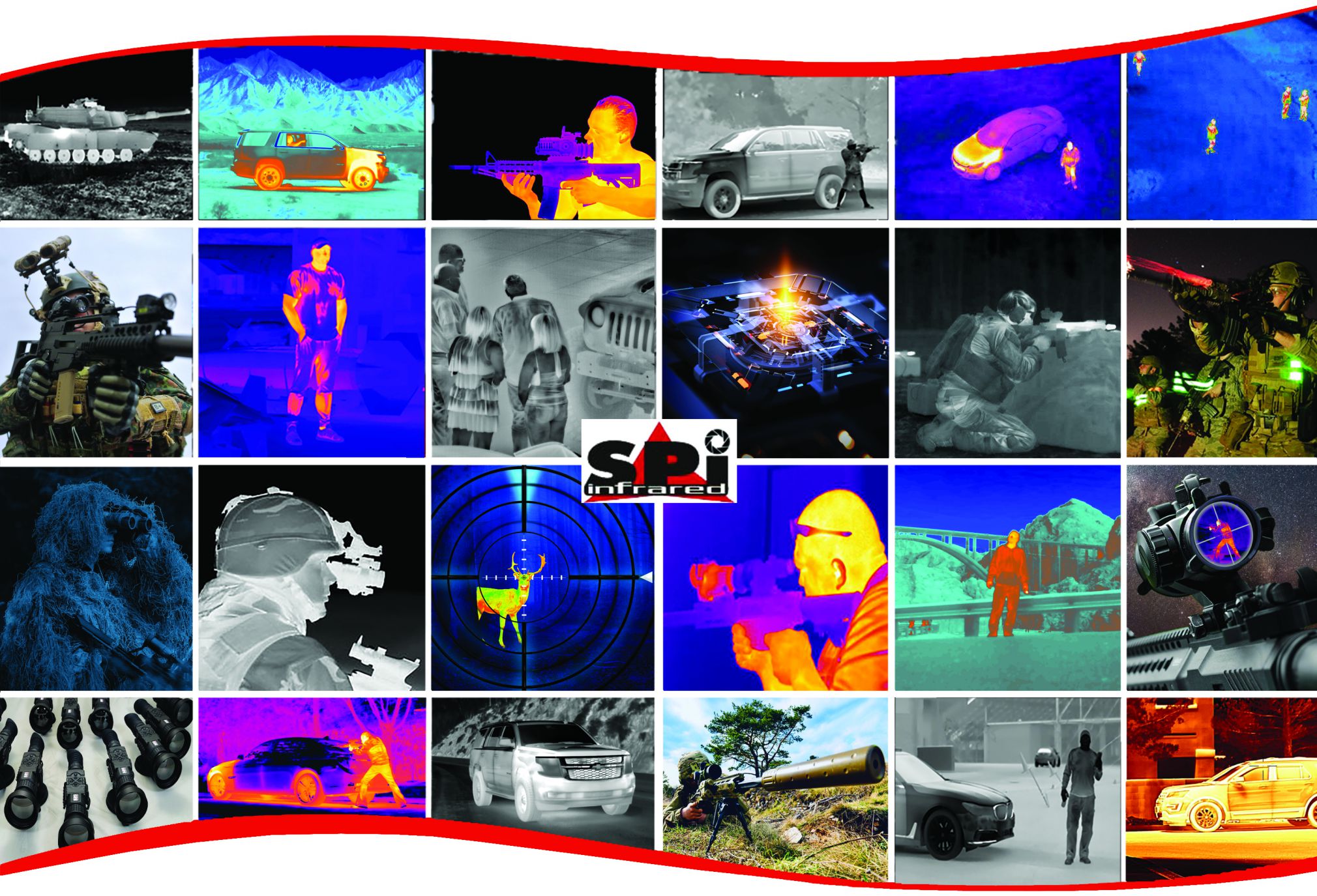 ---
Category: Long Range thermal cameras
Subcategory: Long Range thermal Binoculars
Our long range thermal binoculars are Rugged, all weather, state of the art dual eye thermal imaging flir systems. These devices come in uncooled LWIR And Cooled MWIR thermal imaging sensor Choices both in standard definition and in HD high definition. Utilizing small micro pitch detectors, our long range thermal binoculars pack optics that can reach out in excess of 10 kilometers for human and vehicle detection applications, this is considered very long range especially in total darkness for a handheld thermal imaging unit. Our handheld long range thermal imaging binoculars also come with a variety of complementary Sensors to add for mission readiness. Sensors like laser rangefinder's (LRF), infrared laser pointers, infrared laser illuminators complementary lowlight HD visual day cameras, our EO/IR long range thermal binoculars also have GPS and DMC (Digital Magnetic Compass) modules for geolocating capabilities. Our military grade long range thermal binoculars are a premier choice by military and border protection personnel, the advantage of using thermal binoculars is the ease of viewing especially for long durations while using both eyes. Our thermal cameras offer the user crisp, clear image quality with outstanding detail, clarity and fidelity. Long range thermal binoculars housing tend to be bigger in size compared to Long range thermal monoculars, this extra real estate in the housing allows for the incorporation of the additional optics, sensors, and modules making up a complete multiSensor thermal binoculars system.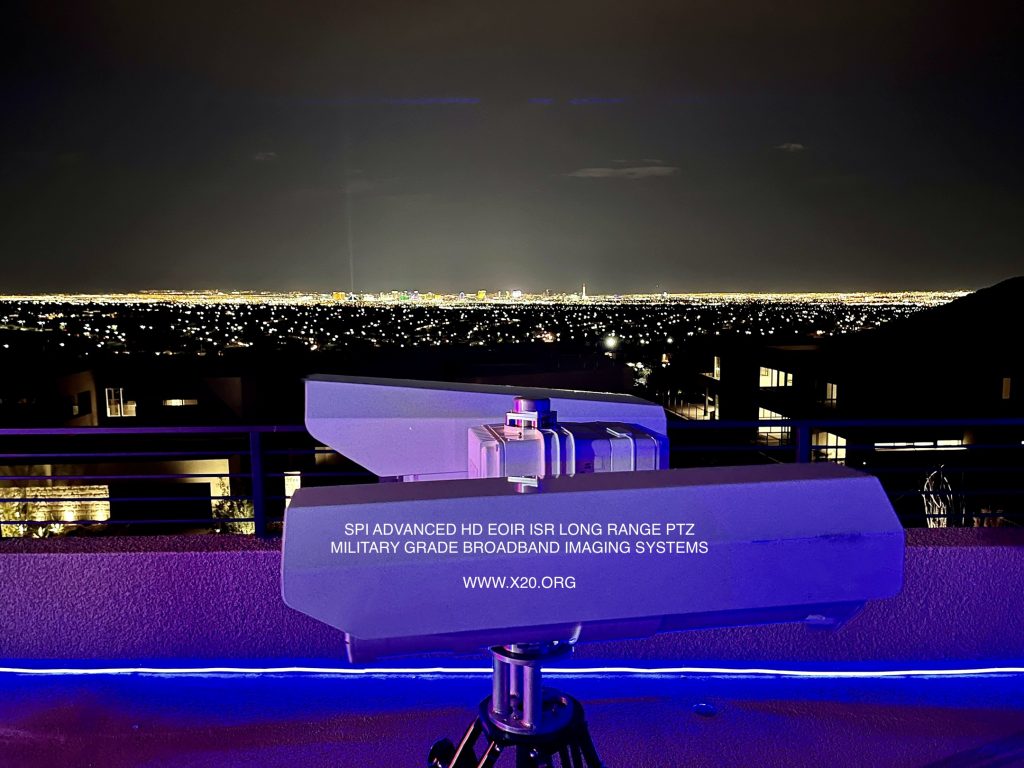 ---
Category: Long Range thermal cameras
Subcategory: Long Range thermal imaging flir PTZ Pan Tilt Zoom EOIR systems
Our long range flir PTZ thermal cameras are robust, All weather, heavy duty PTZ (Pan Tilt Zoom) positioners/Gimbals that rotate continuously 360 degrees and Pan/Tilt up and down allowing the user to guide and control the motors and position the long range flir cameras and associated sensors to the position of interest. The long range flir PTZ thermal Security cameras can be gyro-stabilized which reduces the shake and jitter from the imagery especially when zoomed in to maximum telephoto ranges. Our long range flir PTZ thermal Security cameras Have the ability of reaching out and detecting threats up to 50 kilometers. All of our flir PTZ thermal camera come with a complimentary long range zoom daytime EO CMOS low light camera Which make these systems a true complete day and night imaging system. Additional sensors can be added onto our long range flir PTZ thermal cameras such as SWIR (Short Wave Infrared) cameras, Laser rangefinders (LRF), tracking, radar with slew to cue capabilities, GPS, Compass, Laser dazzlers, microphones, spotlights, loudspeakers, laser infrared Illuminators, laser infrared pointers, and high speed cameras. We custom build our long range flir PTZ thermal camera and can incorporate most any add on option you can imagine into our gimbal platforms. Our thermal cameras offer the user crisp, clear image quality with outstanding detail, clarity and fidelity. Long range infrared cameras come in both Cooled MWIR and LWIR uncooled flavors in both HD (High Definition) and SD VGA (Standard definition) which is typically 640×480 or 640×512 Pixel resolution. Our long range thermal imaging flir camera systems are mounted in harsh environments and used for Border patrol and protection, coastline and shoreline installations, range, airports, forward Operation and observation bases (FOB), runways, critical infrastructures, high value asset protection and anywhere where long range 24/7 day and night vision imaging is critical to secure and protect a specific area. Our long range flir PTZ thermal cameras are easily mounted in multiple configurations like on roof mounted, car, Truck, mobile command vehicles, security vehicle and mobile applications. In marine vessels, our long range flir ptz thermal cameras Are mounted to boats, yachts and cruise ships. Other mounting provisions are portable trailers, telescoping masts, poles, tripods, pendant, buildings and fixed mounts. SPI uses the best, most reliable and longest lasting coolers in the midwave MWIR long range thermal camera systems which is a critical factor in the procurement of long range flir cameras. Having a reliable cooler ensures years of continuous maintenance free operation from the MWIR camera. We source the best Cooled Camera system made up of indium antimonide InSb, HOT MCT Mercury Cadmium Telluride and SLS types with micro pitches as small as 10 µm.
Click here for the history and terminology related to thermal
infrared flir imaging and night vision equipment.