CHARACTERISTICS
Image Intensifier Tube: Gen 2+ "White Phosphor Level 3"
Magnification: 1x
Lens System: 27 mm; F/1.2
FOV: 40°
PACKAGE INCLUDES
Lens Tissue
One Lithium Battery CR123A
Packing Box
Soft Carrying Case
Operators Manual
EXPORT RESTRICTIONS
Product shown herein is subject to US export regulations and may require a license prior to export. Any diversion contrary to US Government regulations is prohibited.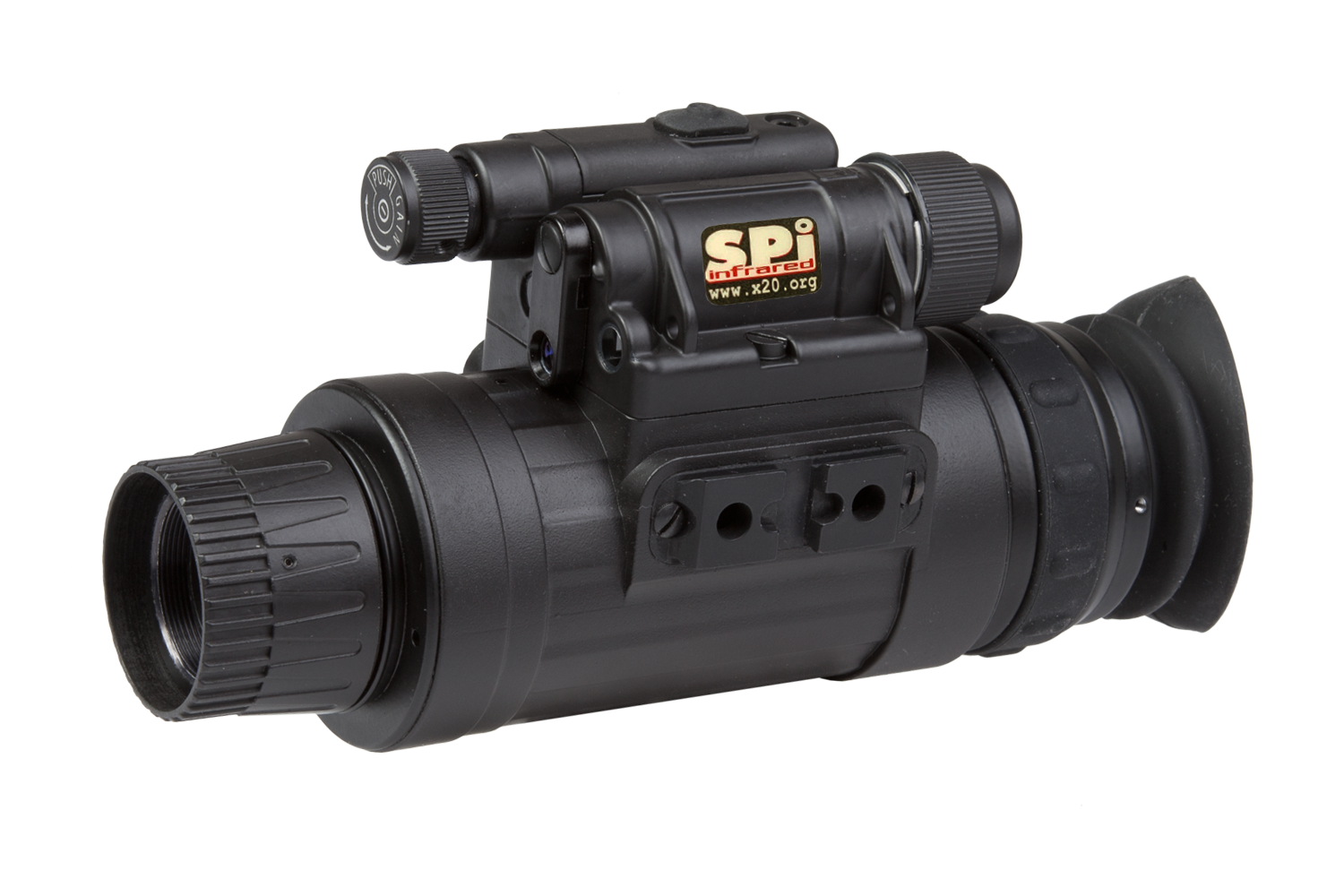 DESCRIPTION AND FEATURES
SPI Wildcat-14 is a high-tech, durable and versatile Night Vision monocular that delivers great performance at a reasonable price. Packed with high-tech features, the Wildcat-14 NVM is equally suited for law enforcement and security professionals, as it is for hunting and recreation. The Wildcat-14 NVM can be hand-held or mounted on a helmet or headgear. A specialized mount enables use with a rifle and the ability to mount in front of a camcorder or camera makes it ideal for night photography. With a variety of compatible lenses, long-range nighttime viewing is available in seconds. The Wildcat-14 NVM features bright light shut-off circuitry and a built-in spot/flood IR illuminator. The Wildcat-14 can be equipped with high-performance Gen 2 image intensifier tubes in green or white phosphor.
Compact, rugged design
Weapon mountable
Head or helmet mountable for hands-free usage
Bright light cut-off
Ergonomic, simple, easy to operate controls
Utilizes single CR123A lithium battery or AA Alkaline, adapter included
Adaptable for use with cameras
Built-in Infrared illuminator and flood lens
SPECIFICATIONS
Gen 2+ "White Phosphor Level 3"
Field of view cleanness by zone
Gen2 IIT NW3 offers good quality at competitive pricing.
Automatic Shut-Off System
One CR123A (3V) or AA (1.5 V)
Operating Temperature Range
-40°C to +50°C (-40°F to +122°F)
Storage Temperature Range
-50°C to +50°C (-58°F to +122°F)
157 × 60 × 75 mm (6.1 × 2.3 × 2.9 in)
Night Vision Monocular, Lens Cloth, Soft Carrying Case