CHARACTERISTICS
Image Intensifier Tube: Gen 2+ "Level 1"
Magnification: 1x (3x and 5x optional)
Lens System: 26 mm; F/1.2
FOV: 40°
PACKAGE INCLUDES
Packing Box
System Soft Carrying Case
Helmet/ Head Mount Adapter
Head Mount Assembly
Neck Lanyard
Operators Manual
Batteries
Demist Shields
Sacrificial Window
Lens Tissue
EXPORT RESTRICTIONS
Product shown herein is subject to US export regulations and may require a license prior to export. Any diversion contrary to US Government regulations is prohibited.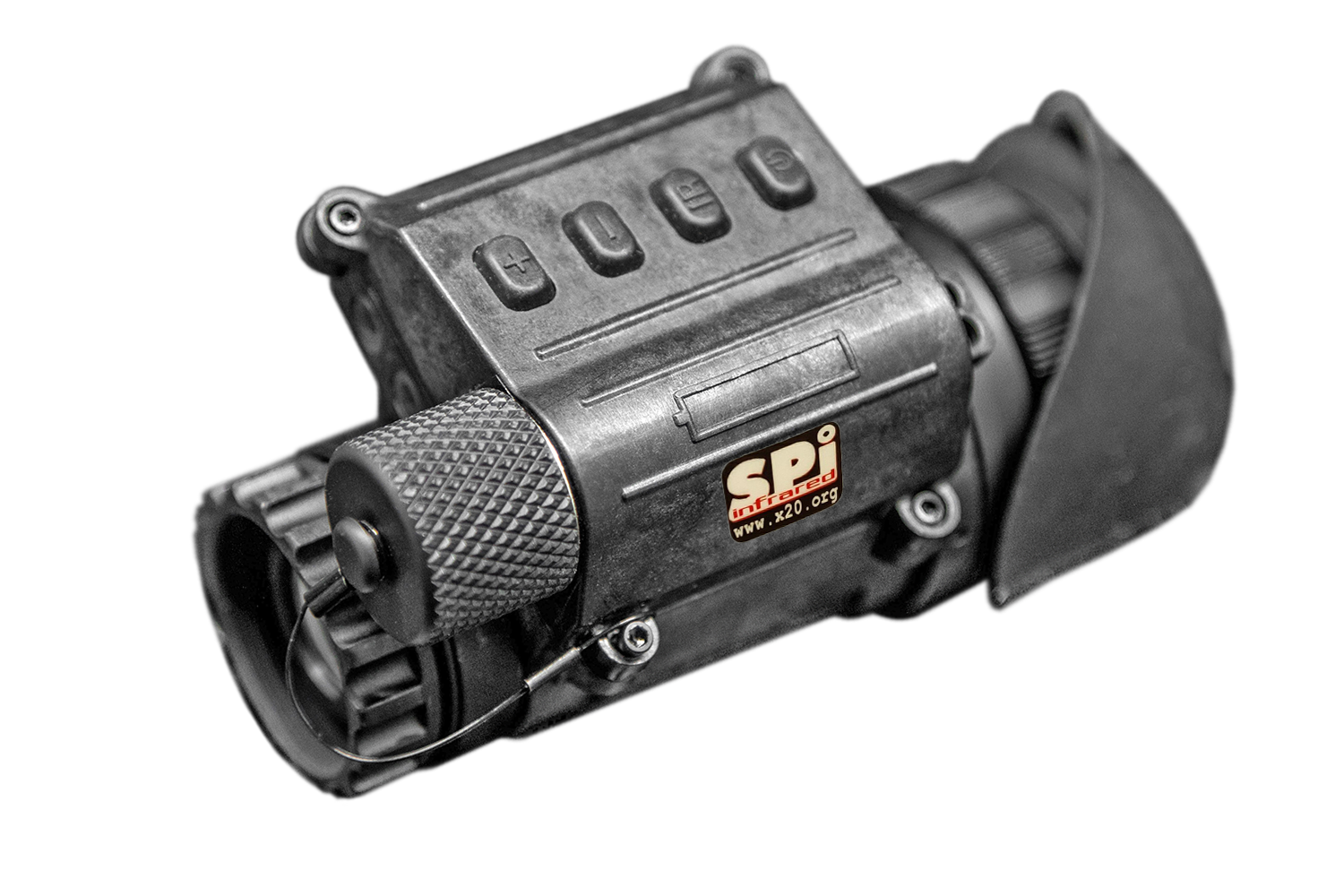 DESCRIPTION AND FEATURES
The SPI PVS14 Delta is the lightest multi-purpose night vision monocular currently available. The ultra-light PVS14 Delta is designed with new MIL-SPEC light weight optics and an improved battery compartment equipped with digital push button switches that reduces the total weight of the system from 350 grams to only 260 grams. The modified SPI PVS14 Delta retains all the characteristics of a normal AN/PVS-14, but in smaller housing dimensions. The unit features a Full Diopter Adjustment Range, Infrared LED, Gain Control, IR/Low Battery Indicator, flip up turn off and flip down turn on system and the capability to be hand-held, mounted on the helmet, headgear or weapon. The PVS14 Delta operates with just 4 controls, similar to the AN/PVS- 14: one button for power on/off, one button for turning on and off the IR LED, and two switches (+/-) for raising and lowering the Gain Control. Manufactured with US made optics and components and equipped with high-quality Gen 2+ or Gen 3 tubes, the SPI PVS14 Delta provides outstanding performance that complies with US military standards.
Compact and light-weight design
Manual Gain Control
Built-in Infrared illuminator
Powered by single AA battery
IR/Low Battery Indicator
Head or helmet-mountable/Made in USA
SPECIFICATIONS
Field of view cleanness by zone
Gen 2 IIT NL1 is the highest resolution and the cleanest offered by SPI. There are practically no visible spots in Zone 1.
LED indicators in the FOV: Low battery; IR On; Excessive light conditions
Automatic Shut-Off System
Operating Temperature Range
-51° C to +49° C (-60° F to 120° F)
Storage Temperature Range
-51° C to +85° C (-60° F to 185° F)
114 × 63 × 69 mm (4.5 × 2.5 × 2.75 in)
Head Mount Assembly, Brow Pad, Eye Cup, Helmet/ Head Mount Adapter, System Soft Carrying Case, Daylight Filter, Shoulder Strap, Lens Paper, Diopter Lens Cap, Sacrificial Window, Demist Shields, Operator's Manual, Battery