CHARACTERISTICS
Image Intensifier Tube: Gen 2+ "Level 3"
Magnification: 1x
Lens System: 24mm, F/1.2
FOV: 40°
PACKAGE INCLUDES
One Lithium Battery CR123A
Lens Tissue
Battery adapter CR123A 3V / AA 1.5V
SPI Cap Goggle Kit W
Soft Carrying Case
Packing Box
Instruction Manual
EXPORT RESTRICTIONS
Product shown herein is subject to US export regulations and may require a license prior to export. Any diversion contrary to US Government regulations is prohibited.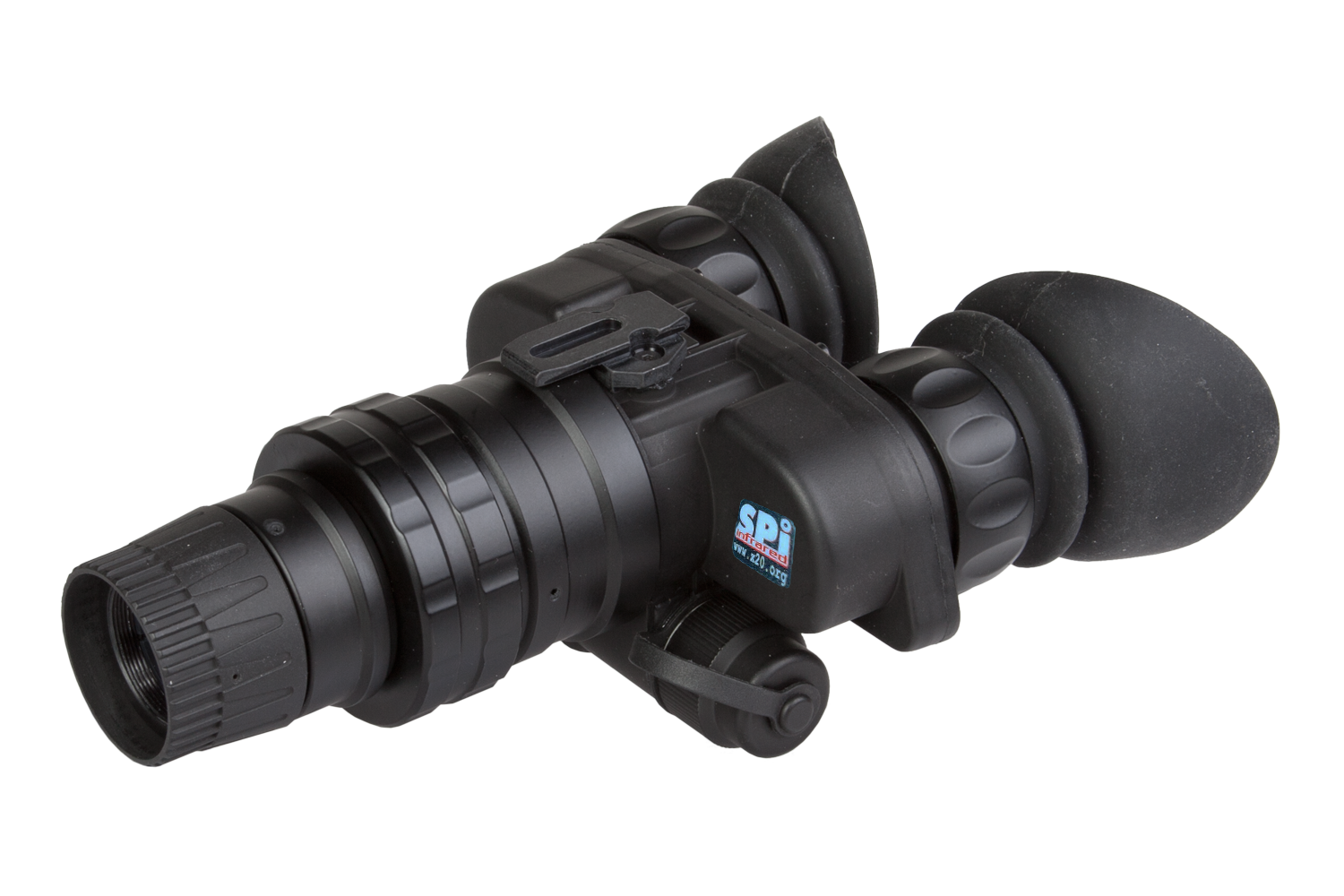 DESCRIPTION AND FEATURES
The SPI Wildcat-7 is a bi-ocular Night Vision goggle system assembled with premium-grade optics and simplified electronics for outstanding dependability. The Wildcat-7 provides bright and clear Night Vision images, even in the most trying conditions. Configured with an expanded choice of Gen 2+ and Gen 3 image tubes, Wildcat- 7 delivers high performance at any price point. The SPI Wildcat-7 includes a built-in short-range IR light source and offers a wide variety of accessories such as 3X and 5X magnification lenses for mid-to-long-range viewing, head or helmet mounts for hands-free operation, and additional, high-powered IR illuminators for long-range use. Waterproof, rugged, light, and compact, the Wildcat-7 is the perfect device for a variety of tough operations.
Lightweight compact rugged goggle system
Multi-purpose: Hand-held, head-mounted or helmet-mounted
Comfortable flip-up headgear
Multi-coated all-glass optics
Wide angle infrared illuminator
Auto brightness control
Bright light cut-off Utilizes single CR123A lithium battery or AA Alkaline, adapter included
Waterproof
SPECIFICATIONS
Field of view cleanness by zone
Gen2 IIT NL3 offers good quality at competitive pricing.
Low battery; IR On; Excessive light conditions
Automatic Brightness Control
Automatic Shut-Off System
One CR123A (3V) or AA (1.5 V)
Operating Temperature Range
-40°C to +50°C (-40°F to +122°F)
Storage Temperature Range
-50°C to +70°C (-58°F to +158°F)
188 × 122 × 70 mm (7.4 × 4.8 × 2.8 in)
Goggle Kit W, Soft Carrying Case, Lens Cloth, Battery Adapter,User Manual