CHARACTERISTICS
Image Intensifier Tube: Gen 2+ "Level 2"
Magnification: 1x (3x optional)
Lens System: 19 mm; F/1.26
FOV: 51°
PACKAGE INCLUDES
One Lithium Battery CR123A
Lens Tissue
Instruction Manual
Battery adapter CR123A 3V / AA 1.5V
Soft Carrying Case
EXPORT RESTRICTIONS
Product shown herein is subject to US export regulations and may require a license prior to export. Any diversion contrary to US Government regulations is prohibited.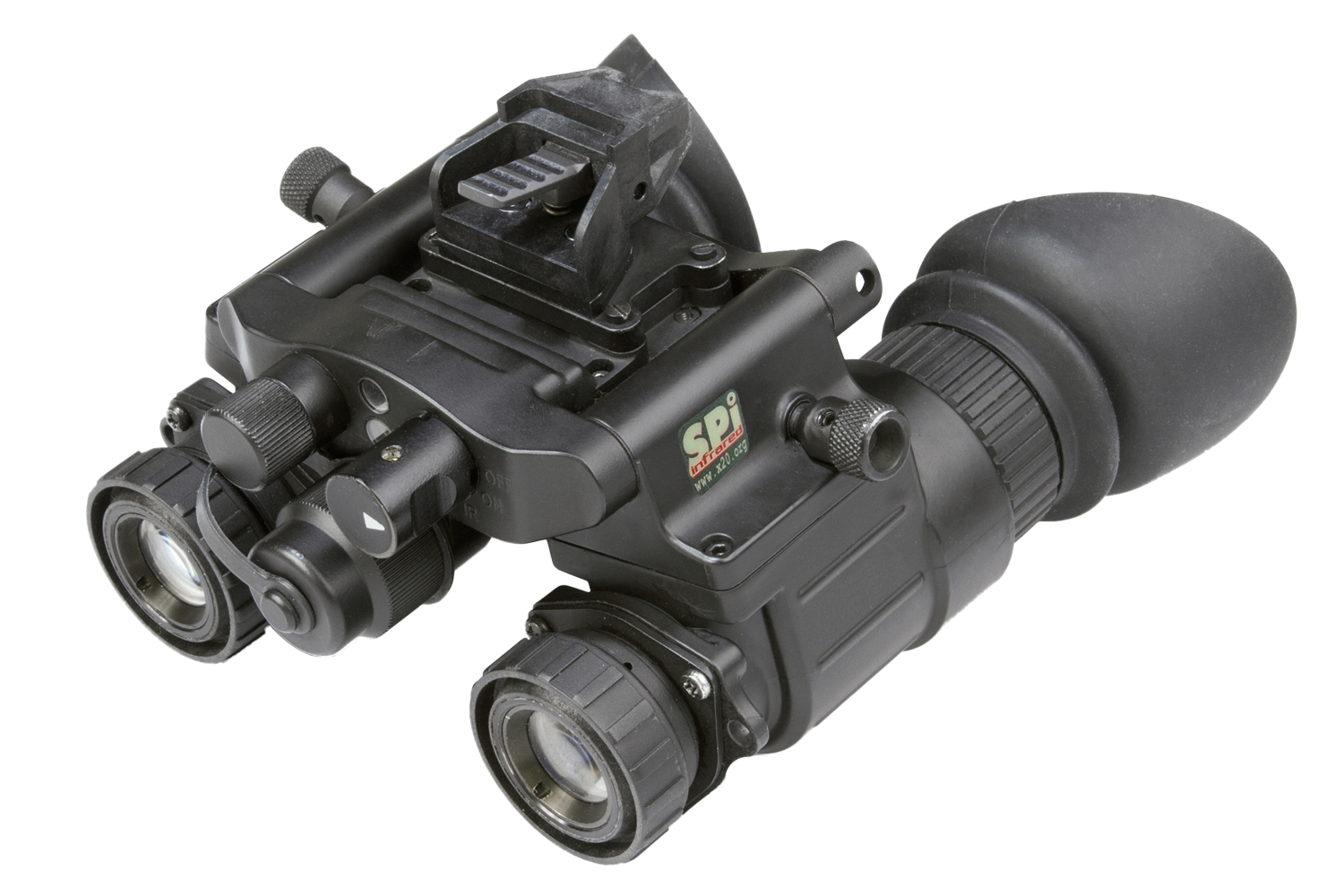 DESCRIPTION AND FEATURES
The SPI NVG-50 is a dual-channel night vision system. With a 51° field of view (FOV), it provides a large visual field without needing to move the binoculars. The NVG-50 uses advanced multi-coated optics and is built to last with a compact composite housing. Operating from a single AA alkaline battery or CR123A battery, the NVG-50 can run up to 20 hours. Also equipped with an integral infrared illuminator for reading in the dark.
Redundant dual-tube design
True stereoscopic vision
Wide 51° field of view
Lightweight & compact
Head or helmet mountable for hands-free operation
Bright light cut-off
Ergonomic, simple, easy to operate controls
Built-in Infrared illuminator and flood lens
Utilizes single CR123A lithium or AA battery
SPECIFICATIONS
Field of view cleanness by zone
NL2 IIT offered by SPI, very limited number of spots in Zone 1.
Low battery; IR on; Excessive light conditions
Automatic Shut-Off System
One CR123A (3V) or AA (1.5 V)
Up to 20 hours at 20°C (up to 80 hrs with optional battery pack)
Operating Temperature Range
-40°C to +50°C (-40°F to +122°F)
Storage Temperature Range
-50°C to +50°C (-58°F to +122°F)
112 × 118 × 74 mm (4.4 × 4.6 × 2.9 in)