CHARACTERISTICS
Image Intensifier Tube: Gen 2+ "Level 1"
Magnification: 1x
Lens System: 27 mm, F/1.3
FOV: 40°
PACKAGE INCLUDES
One Lithium Battery CR123A
Lens Tissue
Instruction Manual
Battery adapter CR123A 3V / AA 1.5V
Soft Carrying Case
EXPORT RESTRICTIONS
Product shown herein is subject to US export regulations and may require a license prior to export. Any diversion contrary to US Government regulations is prohibited.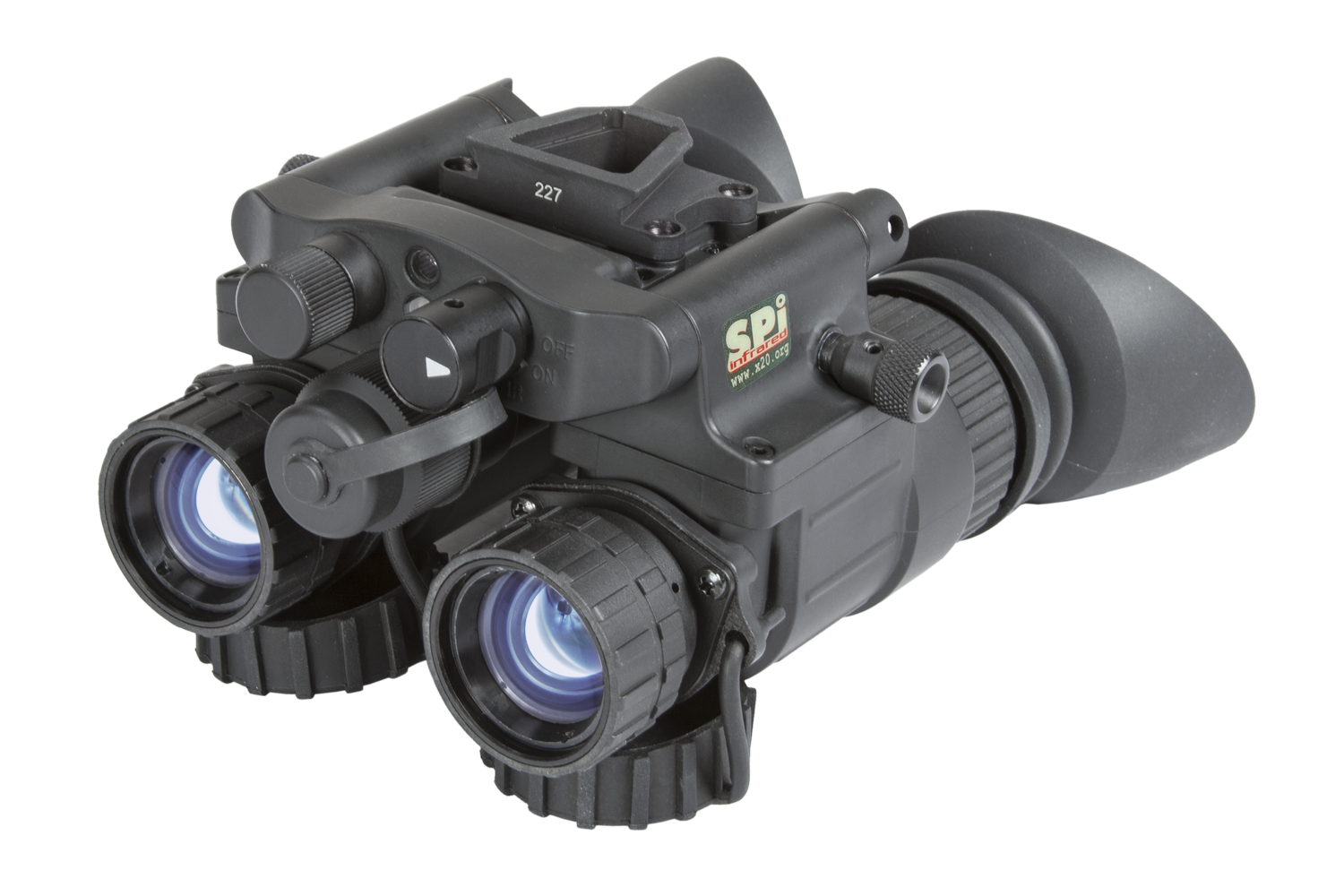 DESCRIPTION AND FEATURES
The SPI NVG-40 is a dual-channel night vision system. With a 40° field of view, it provides a large visual field without needing to move the binoculars. The NVG-40 uses advanced multi-coated optics and is built to last with a compact composite housing. Operating from a single AA alkaline battery or CR123A battery, the NVG can run up to 20 hours. Also equipped with an integral infrared illuminator for reading in the dark.
Redundant dual-tube design
True stereoscopic vision
Lightweight & compact
Head or helmet mountable for hands-free operation
Bright light cut-off
Ergonomic, simple, easy to operate controls
Built-in Infrared illuminator and flood lens
Utilizes single CR123A lithium or AA battery
SPECIFICATIONS
Field of view cleanness by zone
Gen 2 IIT NL1 is the highest resolution and the cleanest offered by SPI. There are practically no visible spots in Zone 1.
Low Battery IR On Excessive Light Conditions
Automatic Shut-Off System
One CR123A (3V) or AA (1.5 V)
Up to 20 hours at 20°C (up to 80 hrs with optional battery pack)
Operating Temperature Range
-40°C to +50°C (-40°F to +122°F)
Storage Temperature Range
-50°C to +70°C (-58°F to +158°F)
115 × 118 × 74 mm (4.5 × 4.6 × 2.9 in)
Night Vision Goggles, Goggle Kit, Soft Carrying Case, Lens Cloth, Battery Adapter, User Manual