CHARACTERISTICS
Image Intensifier Tube: Gen 3 "Level 1"
Magnification: 5.6x
Lens System: 145 mm; F/1.8
FOV: 7°
PACKAGE INCLUDES
SPI Sioux850 Long Range Infrared Illuminator with Mount
Dovetail to Weaver Transfer Piece
Rechargeable Battery
Charger
Operators Manual
Lens Tissue
One Lithium Battery CR123A,
Soft Carrying Case
EXPORT RESTRICTIONS
Product shown herein is subject to US export regulations and may require a license prior to export. Any diversion contrary to US Government regulations is prohibited.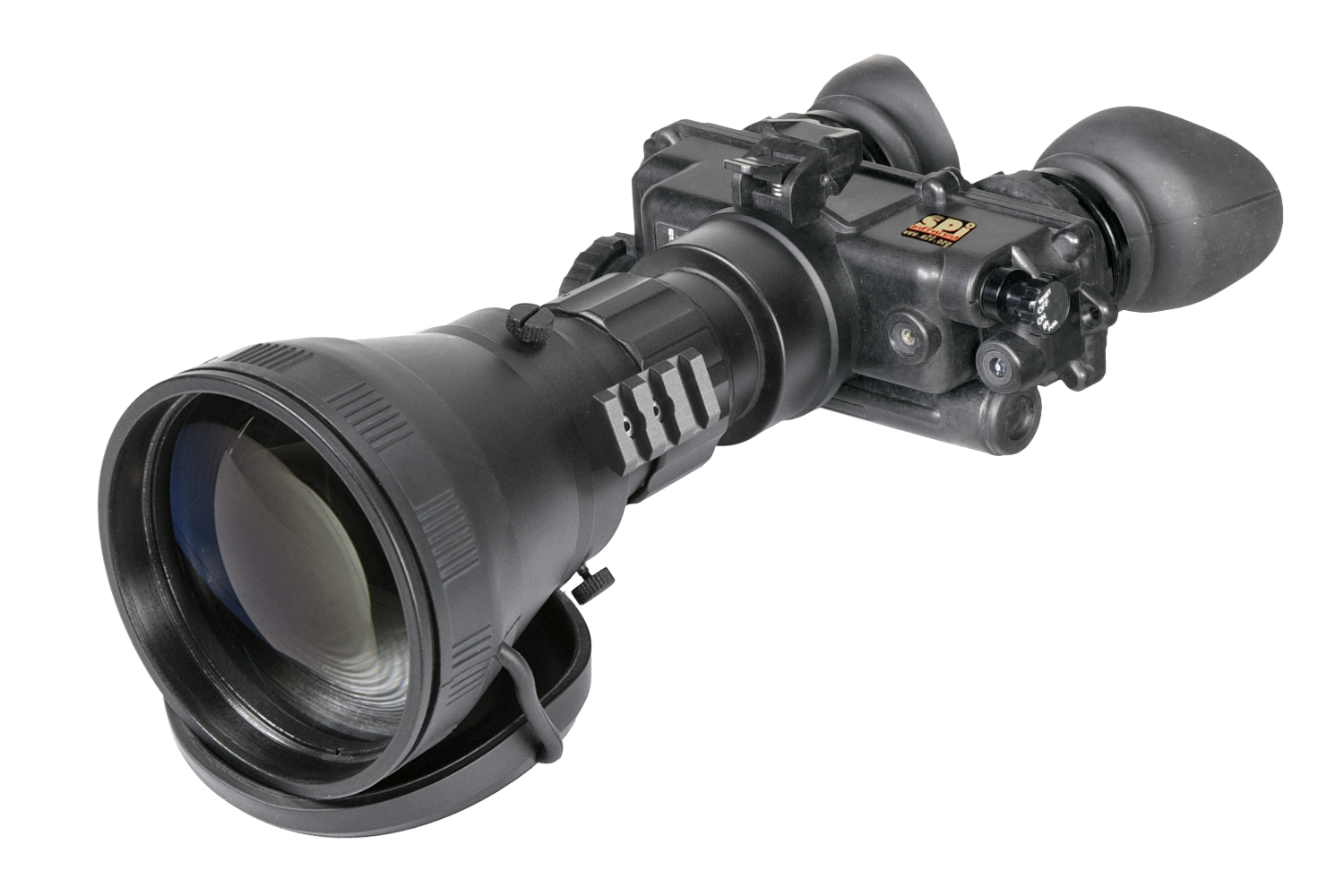 DESCRIPTION AND FEATURES
The SPI Blackbird-LE night vision bi-ocular is the perfect tool for mid-range and long-range observation. The Blackbird-LE is compatible with a range of professional high quality objective lenses to match all users' requirements currently available in three configurations – 5x, 8x, and 10x magnification. The Blackbird-LE is a professional night vision device favored by law enforcement and military units due to its unmatched performance, even in extreme temperatures and challenging weather conditions such as rain or excessive humidity. The device can be outfitted with either a Gen 2+ or Gen 3 high-performance image intensifier (II) tube, which can be repaired or upgraded easily. The bright light shut-off feature ensures that the high-quality photocathode tube is protected. The Blackbird-LE is also equipped with Automatic Brightness Control (ABC), which adjusts the image brightness automatically, providing the highest possible image quality even in changing light conditions. Blackbird-LE is supplied with two AA batteries and its operating time is up to 40 hours of continuous use.
5x, 8x or 10x magnification
Lightweight rugged design
Waterproof
Auto brightness control
Ergonomic, simple, easy to operate controls
SPECIFICATIONS
Field of view cleanness by zone
Gen 3 IIT 3NL1 is the highest resolution and the cleanest offered by SPI. There are practically no visible spots in Zone 1.
Low battery; IR On; Excessive light conditions
Automatic Brightness Control
Detachable long-range IR illuminator
Automatic Shut-Off System
2 AA Alkaline or 1 Lithium (BA-5567/U)
Operating Temperature Range
-40°C to +50°C (-40°F to +122°F)
Storage Temperature Range
-50°C to +50°C (-58°F to +122°F)
282 × 152 × 96 mm ( 11.1 × 6.0 × 3.8 in)
Night Vision Binocular, Sioux850 Detachable Long-Range IR Illuminator Lens Cloth, Soft Carrying Case